Gary Keegan, (centre), keynote speaker at the Mid-West Lean Network conference held in the University of Limerick pictured with (from left): Claude Costelloe, Zimmer Biomet and Network chair; Robert Hernan, senior lean advisor, Enterprise Ireland; Helen Downes, CEO, Shannon Chamber; and Damian Farrell, business communications consultant, Three. Photo: Eamon Ward.
Two Shannon companies, Advanced Technical Concepts and Molex emerged as joint winners of the A3 Project storyboard award at the annual Mid-West Lean Network conference held in the University of Limerick last week.
A total of nine projects were entered for the award by Essilor, Zimmer Biomet, Cook Medical, Analog Devices, Atlantic Aviation Group, Reagecon in addition to the winning companies.  Conference attendees selected the winner via an online voting system in the auditorium; this resulted in a tied vote with award sponsors LBS Partners making a joint presentation to both companies.
The A3 storyboard street project was a new element to this year's conference and gave company employees the opportunity to outline how, through teamwork, they successfully addressed an internal company issue using the A3 lean tool.
Keynote speaker at the conference, Gary Keegan, former performance director with the Irish Athletic Boxing Association's high-performance boxing programme and now CEO of a high-performance advisory for business and sport, carried this theme of teamwork to create a competitive edge into his address to delegates.
Speaking from experience in encouraging teams to perform to their optimal, particularly through his work in boxing and more recently with winning teams as diverse as the Dublin senior footballers, Tipperary hurlers, Leinster rugby and Cricket Ireland, Keegan said that the secret to success lies within each team member being willing to go beyond their own function and work together for the collective good.
Stating that high performance is about controlling the controllables, with responsibility for success centralised, his advice to conference attendees was to ensure that, if part of a team, they get their own work in appropriately and break it up into components as, when added up, performance increases.
He also advised attendees to accept change and to always be aware that it is constant.
Keegan's ability to change a team's mindset is evidenced in the results obtained by the Irish Boxing team in the period 2003-2017 when the team won seventy-eight major medals compared to a mere two from 1998 – 2003.
"These results were driven by a growth mindset, with everyone involved with the team, including the boxers, understanding what was holding us back," he stated.
Urging businesses to get into the same deep level as evident in sport, he added: "Leaders much set and demonstrate by example. The journey to greatness begins the moment our preference for comfort and certainty are overruled by a greater purpose that requires challenge and contribution."
This focus on people and leadership was reinforced by the four conference presenters: Tony O'Connor, general manager of Kinsale, Co Cork-based Graepel Perforators and Weavers; Fiona Keogh, learning and organisational development manager with Analog Devices International; Robert Bourke, partner, Holmes O'Malley Sexton and Tim Cotter, associate director, business consulting with Grant Thornton.
As Shannon Chamber CEO Helen Downes stated after the conference: "We have seen a tremendous increase in the uptake of lean and continuous improvement processes since holding the first conference at the University of Limerick in 2017. Companies now realise that their success and sustainability is as much linked to its people as it is to its products.
"As stated in one of the presentations, companies need to create the optimum environment for culture to flourish and must also develop all employees and empower and involve everyone. People will get behind a clear vision and strategy if it is clearly communicated to them and if the managers can demonstrate that they understand the consequence of change. This was so evident at the conference and I am confident that we will see the takeaways from the day leading to increased behavioural change within companies as they embed lean more into their organisations."
The Mid-West Lean Network conference was organised by Shannon Chamber in conjunction with the Network's steering committee involving executives from Zimmer Biomet (chair), University of Limerick, Atlantic Aviation Group, Molex, Cook Medical, Analog Devices, Virgin Media, Advanced Technical Concepts, LBS Partners and Idex Pump Technologies. It was facilitated through headline sponsorship from Three and associate sponsorship from the University of Limerick, LBS Partners, DB Schenker, Indigo and Molex. The Network is also supported by Enterprise Ireland and IDA Ireland.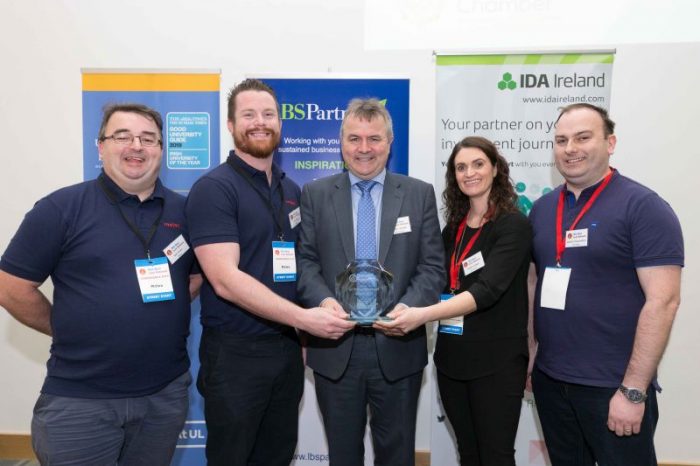 Vincent Leonard, director, LBS Partners presents the A3 Project Storyboard award sponsored by LBS Partners to the joint winners (from left) Noel Hickey and Joe Crennan, Advanced Technical Concepts and, Sandra Fleming and Martin O'Shaughnessy, Molex. Photo: Eamon Ward.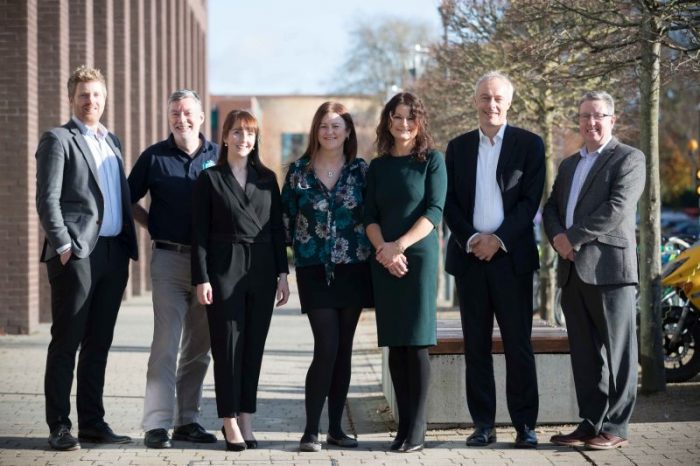 Pictured at the Mid- West Lean Network conference held in the University of Limerick (from left): conference presenters Tim Cotter, Grant Thornton, Tony O'Connor, Graepels, and Fiona Keogh, Analog Devices International; Helen Brown, University of Limerick, Helen Downes, Shannon Chamber, Robert Bourke, Holmes O'Malley Sexton, conference presenter and Claude Costelloe, Zimmer Biomet and network chair. Photo: Eamon Ward.